<< back to list
Why did you choose Atlas MedStaff?
Starting as an intern in the company, I had no idea what to expect. After being around this culture and being around the people in this company, there is no other place I'd rather be. Atlas truly is a family and I'm forever grateful for the opportunity to be a part of it!
Family:
I have two amazing Parents, Mary and Trey. I also have a younger sister, Maddie, who is a best friend of mine.
Pets:
Remi, an 11 year old English setter and Josie, a 6 year old Britney Spaniel.
Hobbies:
Hunting, Fishing, Camping, Music Festivals, and Traveling
Any other information you want to share:
I am a huge foodie, a big fan of trying other cultures' food and beverages.
I'm 1 of 4 Matt's in my family and usually go by my middle name, Jake.
Top 3 things on your Bucket List:
1. Hike through the Swiss Alps
2. Attend a Duke/UNC basketball game at Cameron Indoor Stadium (rooting for the Blue Devils of course)
3. Dive the Great Barrier Reef
Favorite Quote:
"Keep your eyes on the stars and your feet on the ground."- Theodore Roosevelt
Matt's Videos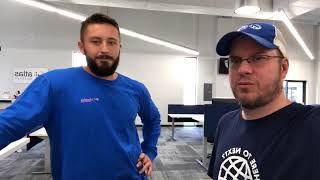 5 Question Friday